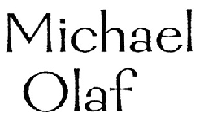 Michael Olaf, the Montessori shop for children from birth to seven years, and their adults
Michael Old is now basically a publishing company focusing on the books by Susan Mayclin Stephenson. To make room for books many of the other items are being closed out Receive a FREE BOOK of your choice with any order over $50. One book per order. At your shopping cart there is a box "ordering instructions". Type your free book choice in this box.

GB601 Montessori and Mindfulness - Wholesale
$17.95
"This book has the magic of leading the reader to be able to understand how Montessori environments offer the practice of "mindfulness" in such a natural and authentic way through work, concentration and being part of all the wonderful experiences, as children and also as adults." — Cecilia Elguero, Director of Training, Instituto Montessori Internacional de Querétaro, México.



B231 Montessori Cosmic Education, The Child's Discovery of a Global Vision and a Cosmic Task
$10.95
This is the first in the new series "Brief Montessori Introductions" created for busy people, 40 pages. Since its introduction at the AMI Annual Global Meeting in Amsterdam in 2023 it has been translated into several languages and more are in progress. It has been described as "The best first book for people just beginning to explore Montessori education. Helpful for parents and all other educators."



DL055 Vegetable Cards, set/24
$20.00 $10.00 On Sale!
Unable to find a set with 24 cards and beautiful illustrations, artist Susan Mayclin Stephenson created beautiful oil paintings of 24 vegetables to make this set. They have even been framed in homes and classrooms around the world. Order two sets to make 3-part language cards. Cardstock 4.25" x 5", full color.




DP33J Shells with Matching Cards
$45.00 $25.00 On Sale!
The shells in this unique collection were selected with the study of zoology at the 6-12 level in mind. The ink drawings were made by Susan, the author of our Montessori books, because the child with black ink drawings a child will be inspired to examine each shell carefully rather than to match shell and picture by color. This is essential since many of the shells come in a variety of colors. There are 22 shells with 22 matching pictures printed on 4.25" x 5.5" white cardstock.




CR252 Placemat, blue
$15.00 $8.00 On Sale!
Recommended in the international Montessori 0-3 teacher training teacher training course.




CR320 Placemat, green
$15.00 $8.00 On Sale!
Recommended in the international Montessori 0-3 teacher training teacher training course.




DE606 Electric Circuit Set, including directions for use
$50.00
One of the most important physics experiments for ages 3-6 and older. It is recommended in the book "The Red Corolla, Montessori Cosmic Education Introduction for Age 3-6+"" which contains the Montessori arts and sciences lessons that prepare for Cosmic Education in the elementary years. Created by, and only available through, the Michael Olaf company.




BR201 Five Baby Toys in a Bag
$39.00
Lovely well-made first toys for the infant, for grasping and listening. Recommended in the international Montessori 0-3 teacher training program.




DT15 Matreshka Nesting Doll, 6 Doll Set
$35.00
This lovely set of nesting dolls is one of the most favorite toys all over the world. There are 6 dolls, graduated in size, each one nesting the next. They provide an introduction to graduated size, eye-hand control as the child, as young as two years of age, learns to twist off the top to open the doll, and to close it after placing the correct doll inside. To introduce these we suggest placing two dolls in a basket, and gradually adding more until the child can sort and manipulate all six dolls at one setting. Made in Russia.




PE300J Joyful Child Frame
$48.00
NOTE: This frame has always been made from Baltic Birth wood from Russia. Because we no longer can, or want to, get this wood, we are using local wood. As a result the cost has increased slightly. It is a beautiful wood frame made locally to hold our large, 10-piece, picture sets. The pictures easily slip in and out to make changes. Search "large pictures" below to see more than picture sets.




DE636 Basic Montessori 3-6+ Geography Cards
$15.00 $7.00 On Sale!
Basic Montessori geography language material. 24 cards, printed on 4.25" x 5.5" yardstick. The set includes 7 labeled Continent cards (Asia, Africa, North America, South America, Australia, Antarctica, Europe), 1 card with continent labels, 8 basic land and water form cards (Island, lake; cape, bay; gulf, peninsula; strait, isthmus), accompanying land and water definitions cards with etymology. This is all that is needed to begin the exploration of geography at home or in school. Order two sets to make 3-part reading material.